Our tulip "Maitri" baptised by the President of India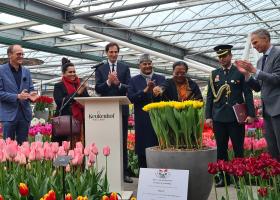 Розміщено в вівторок, 5 квітня 2022 р.
We are proud to announce that on April 4th, 2022, the tulip "Maitri" was baptised by the Hon'ble President of India H.E. Mr Ram Nath Kovind and the first lady Mrs Savita Kovind. The name-giving ceremony was held at Keukenhof in honour of 75 years of friendship and collaboration between India a...
Детальніше